PROJECTS OF PROJECT BRAZIL
Project Brazil, the founding mission that spurred the creation of Grupo Mosaico, an arm of Mercy & Justice of Project Brazil.
Check our various programs:
A hub-bridge of various social projects started, and supported by Project Brazil
www.artsandsocialtransformation.com
One of the main programs for social transformation through arts - aimed at young people from 14 do 18 years old living in Slums and low-income.
A program also to integrate youth from various slums in Rio and as well as a platform for youth from various economic levels.
www.gettingtheshowontheroad.com
A program where the best among the young artists are prepared to take to on the road Brazilian and international arts; a chance for the young artists to experience being on the road presenting his/her arts to all sorts of audience. A personal, artistic, and cultural growth in the lives of the young artist.
The aim of Ingles Mosaic is to enable the young artists, and more, to speak English fluently, and have it as a solid base for his-her transformation.
Sinergia Economica works with entrepreneurs, especially parents of the young artists we are serving, to give them a chance to build a solid business based on the Methodology of the successful Sirolli Institute:
A program where 12 people will become the platform for a young artist to develop his-her talent, and have the necessary assistance to make it.
Wainer & Magui Guimaraes are Covenanters in Mission in Brazil since 2007.
Wainer is a native of Rio de Janeiro, Brazil, and Magui is a native of Lisbon, Portugal.
Wainer holds a Master in Divinity: North Park Theological, in Chicago, Illinois. Also a Master Enterprise Facilitation from the Sirolli Institute, Sacramento, California. He Graduated from Leadership Modesto, Modesto, California, and completed the two Levels International Communicator Specialization at Crystal Cathedral, Los Angeles, California. Wainer also holds a B.A. In Theology from Betel & Peniel Theological Seminaries, Rio de Janeiro, Brazil. Magui is an Architect graduate from Universidade Federal do Rio de Janeiro.
Languages
Wainer & Magui are fluent in Ingles, Spanish and Portuguese.
Wainer's International and Overall Experience:
Worked for 4 years in Europe, and 24 years in US, and the last 10 years in Brazil.
Worked with College Students, Cross-cultural projects, Educational Programs, Entrepreneurial Training, Leadership Development, Counseling (pre-marital and marital), Equipping Leadership, Developing Citizenship, and Community Transformation through all sorts of Projects through arts, technology, entrepreneurial development, ESL, and sports:
Lived at: City of Porto, Portugal (2 years), Madrid, Spain (2 years), Lancaster, Pennsylvania, San Diego, and Riverbank, California, USA (24 yeas) Rio de Janeiro, Brazil (Last 7 years)
Family
Wainer & Magui have been married for 30 years.
They are the parents of: Daniel Lucas born in Pennsylvania in 1986. And of Peter Mark born in San Diego, Ca in 1991. Both sons are living in California. Daniel is graduated in Graphic Design and Peter is working on a Master of Acting, both at the Disney Founded College Cal Arts.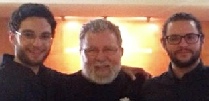 Chronology of Service:
From 2007 to the Present - Founders and Directors of Project Brazil,
Founders Directors of Grupo Mosaico (Supporting existing projects, creating new ones, developing synergy and bridging locally and internationally "Together for a Better World") www.grupomosaico.org
Founders and Directors of Art & Social Transformation, Sports Transforms, ESL: Art, Sports, and ESL are tools for social transformation. The programs offer young artists tools to grow their capacity, and to equip them to live off their talents.
Wainer is the representative of the Sirolli Institute; Enterprise Facilitation - www.sirolli.com
1998-2007 - Wainer was the founding Pastor and director of The Bridge/Community Casa - Riverbank, California
2007-2001 - Founder and Director of the Community Casa (Center for community transformation through social programs created in direct response to the needs and request of the people in the community)
2006-2002 - Founder and Director of Partnership Works (Government, local Schools, College, Business and Citizens working together for a better world in direct response to the local needs)
2006-2002 - Americorps/Vista Supervisor (http://www.americorps.gov/about/ac/index.asp)
2006-2002 - Co-Founder and Director of the Riverbank Community Theater
2006-2003 - Founder-Director of NET Project, (Free technology access and training) Riverbank, Ca
2006-2004 - Founder and Director, of the TEC Project, (Used Computers Donation) Riverbank, Ca
2006-2003 - Enterprise Facilitator for the City of Riverbank and Stanislaus County, Riverbank, Ca
Awards received by Wainer Guimaraes
2003 - Bud La Core - Best Public Servant Award for the Stanislaus County, California
2002 - Elected The Citizen of the Year - For works to the betterment of the City of Riverbank, Ca
Contact:
Contact in USA: (209) 315-8558 in Brazil (55) (21) 99941-3322
Email: wainer4jc@gmail.com - maguiarte@yahoo.com